CALL 1-888-733-56553-5655
PUMPS AND PARTS AVAILABLE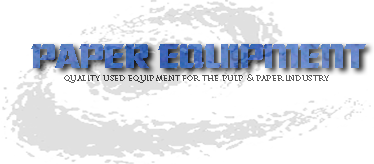 Used equipment for the process industry
USED AND SURPLUS PUMPS AND PUMP PARTS FOR INDUSTRIAL USE
LISTINGS BELOW ARE COMPLETE PUMPS & PUMP PARTS
WE BUY AND SELL SURPLUS PROCESS INDUSTRIAL MACHINERY
LOCATE THE PUMPS AND PARTS YOU ARE LOOKING FOR ABOVE.
CLICK ON A BUTTON TO VIEW PUMPS AND PARTS AVAILABLE FROM SEVERAL GLOBAL MANUFACTURERS.
PUMPS, IMPELLERS, ROTATING ELEMENTS, SHAFTS, SLEEVES, CASINGS, VOLUTES, WEAR PLATES, POWER ENDS,
COMPLETE SELECTION OF PUMPING COMPONENTS.
NEED HELP ? - CLICK HERE FOR ASSISTANCE !
PUMP KNOWLEDGE
- CALCULATE N.P.S.H.A., PREDICT CAVITATION,
EFFICIENCY,
HEAD, MASS FLOW RATE, HEAD FROM PRESSURE - CLICK HERE !
CENTRIFUGAL PUMP VIDEO - CLICK HERE !