SELECT A PUMP MANUFACTURER BELOW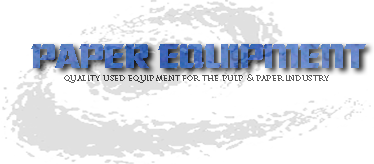 Used equipment for the pulp & paper industry

MEDIUM CONSISTENCY PUMPS
HUNDREDS OF NEW AND USED PUMPS & PARTS BELOW
NEED HELP ? - CLICK HERE FOR ASSISTANCE !
PUMP KNOWLEDGE
- CALCULATE N.P.S.H.A., PREDICT CAVITATION,
EFFICIENCY,
HEAD, MASS FLOW RATE, HEAD FROM PRESSURE - CLICK HERE !
CENTRIFUGAL PUMP VIDEO - CLICK HERE !
GOULDS PUMPS, USED PUMPS, NEW PUMPS, AHLSTROM CONSISTENCY PUMPS, WARREN 30DLB31 PUMP, GOULDS 3415, GOULDS 3405, GOULDS 3175 PUMPS, GOULDS 3196 PUMPS, GOULDS 3700, GOULDS 3500, GOULDS 3796 PUMPS, GOULDS 3316 PUMP, USED GOULDS 3316, 3316 GOULDS USED, USED 3X4X11 3316 PUMP, GOULDS BOI8LER FEED PUMPS, GOU;LDS PUMP, AUCTION OF GOULDS PUMPS, FIND GOULDS PUMPS, PEAK MACHINERY PUMPS, PAPER MILL SURPLUS PUMPS, PERRY VIDEX PUMPS, CAN AM PUMPS, NISE SURPLUS PUMPS, PEAK MACHINERY, FIND PEAK MACHINERY, FIND PAPERMILLSURPLUS.COM, PAPERMILLSURPLUS, PAPEREQUIPMENTSURPLUS, MILLPAPERSURPLUS, PAPEREQUIPMENT AND PUMPS, PUMPS AT PEAK MACJHINERY, PEAK MACHINERY AND PUMPS, PEAK AMCHINERY ON PAPER EQUIPMENT, USED PAPERMILLSURPLUS, PAPEREQUIPMENTSURPLUS, USED PAPER EQUIPMENT, CAN AM BUYS 3175 FROM PAPER EQUIPMENT, PAPER EQUIPMENT BUYS FROM PERRY VIDEX, PAPER EQUIP,MENT BUYS MODEL 500 TRI PHASE MIXER FROM PAPERMILLSURPLUS, PAPERMILLSURPLUS SELLS PAPEREQUIPMENT A TRI PHASE MIXER MODEL 500 TITANIUM NEW SURPLUS TRI PHASE MNIXER, PAPER EQUIPMENT BUY GOULDS 3500, BUYS GOULDS 3700 BUYS GOULDS PUMP 3196, BUYS GOULDS MODEL 3175, PAPER EQUIPMENT BUYS GOULDS PUMP AT AUCTION, BUYS GOULDS PUMP MODEL 3415, GOULDS MODEL 3450, GOULDS 3420 GOULDS 3405, GOULDS MODEL 3420 AND GOULDS MODEL 3700 FROM PEAK MACHINERY, PEAK MACHINERY BUYS PAPER EQUIPMEMT TO SELL TO PUMP DEALERS, PUMP DEALERS BUY PAPER EQUIPMENT, PAPER EQUIPMENT BUYS PAPSER MILL SURPLUS, PAPER EQUDIPMENT BUYS MACHINERY FROM CAN AM, PAPER EQUIPMENT BUYS PUMPS FROM PERRY VIDEX
All Major brands names available in a full range of sizes from 1" to 210,000 GPM and up to 10,000 feet (TDH). Most metallurgies avialable, types, and uses as well. Pumps can be completely remanufactured and come with our 2 year warranty. Brands: Ahlstrom, Bingham, Ingersoll-Rand, United, Worthington, Goulds, Pacific, Union, Allis Chalmers, Byron-Jackson, Durco, Sulzer, After Market, Sunflo, Sunds, Crane, Nash, Viking, Warran, Gorman Rupp and many other popular manufacturers. Pumps for boiler feed, Pulp, Paper, chemical, pipeline, refinery, process, chemical recovery, transfer, cooling water, irrigation, fire pumps, saltwater injection, disposal, food and others. Pump Parts available upon request. Most pumps are available for immediate shipment with order. Emergency shipments available. Take the worry out of delivery and let Paper Equipment handle the logistics for you.