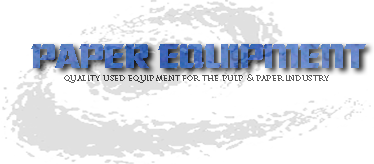 Used equipment for the pulp & paper industry
GOULDS PUMP SELECTION PAGE
WE BUY & SELL SURPLUS PUMPS AND PARTS
CALL US AT: 1-888-733-5655
Goulds Pumps For Sale
MODEL NUMBERS WE OFFER BELOW



FOR GOULDS SURPLUS IMPELLERS CLICK HERE!


CURVES
SELL PAPER EQUIPMENT YOUR SURPLUS NEW AND USED EQUIPMENT: CLICK HERE !
WE BUY AND SELL NEW & USED PUMPS AND PARTS
CALL US TODAY FOR AN OFFER ON YOUR EQUIPMENT !
New arrivals every day so call or e-mail if you do not see it listed here.