Used equipment for the pulp & paper industry
JOIN PULP&PAPERMILL.COM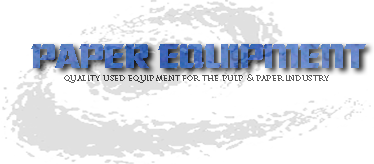 Below are industry links to news and information in several pulp and paper sectors JOIN: pulpandpapermill.com click here !
CALL US TODAY AT 1-888-733-5655 FOR ALL YOUR PULP AND PAPER MILL EQUIPMENT NEEDS
Most Popular paper industry news sites listed below !
check out
Get the leading Paper Industry News, and Information on paperequipment.com
www.news.indiamart.com/paper-industry-news.htm
www.coypaper.com/Industry_Resources___New.html
www.casepaper.com/res_links.htm
www.tappi.org/Pulp--Paper.aspx
Know your metals visit:
http://www.imoa.info/moly_uses/moly_grade_stainless_steels/duplex_stainless_steel.html
Industry News, Manufacturers News, Financial News, Cutting Edege Industry Information,
Used Equipment and New Surplus Supplier, Paper Equipment, Goulds Pumps, Pump Parts,
Used Pumps, Paper Mill Equipment, Pulp Mill Equipment, Converting Equipment
Reserved: PaperEquipment.com 2009
1917 Penn Ave South Minneapolis, MN 55405
Ph: 612-963-2074 Fax: 1-888-532-7996
Our Mission: To provide quality products and unmatched services to our pulp & paper industry customers world wide.
Paper Equipment, used paper equipment, new paper equipment, buy and sell paper equipment, listing paper equipment
Buy used equipment, auction paper mills, auction paper equipment, sell equipment, buy used pumps, sell used pumps,\
buy new and used Goulds pumps and parts, buy and sell pressure screens, refiners, pumps, deflakers, used motors and instrumentation
fisher, rosemount, foxboro, , transmitters, smart transmitters, valmet transmitters, pulp transmitters
complete paper mills, complete paper plants, pulp mills for sale, pulp equipment for sale, nash vacuum pumps for sale,
goulds, durco, worthington, nash, gorman rupp, sunds, black clawson, voith, gl&v, warran, vooner, sihi,
pulp and paper equipment news, used paper equipment news, follow paper equipment, paper equipment in the news, used,
paper mill for sale by paper equipment, paper equipment buys pulp mill, paper equipment buys paper mill in wisconsin
paper mill sale at paper equipment