100" 200 DTPD HYMAC WET LAP MACHINE FOR SALE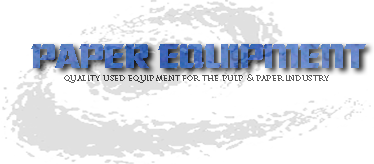 Used equipment for the pulp & paper industry
'
BDSTPD SULPHITE HARDWOOD
INPUT IS 3.5 TO 4.0 B.D
OUTPUT IS 42 TP 47 B.D
ENEW LISTING FOR IMMEDIATE SALE WORLD WIDE - THIS IS A TOP OF THE LINE WET LAP MACHINE
CALL PAPER EQUIPMENT NOW FOR MORE INFORMATION OR A QUOTE:
1-612-963-2074 OR IN THE USA AT 1-888-733-5655
Class:
Wet Lap Machines
Manufacturer:
Kvaerner Hymac
Model No: 100HP-SF-031MS

Year Manufactured: 1998 ORIGINAL DATE OF MANUFACTURER / REFITTED IN 2003 BY
ANDRITZ WITH UPDATED COMPONENTS INCLUDING THE VACUUM SYSTEM.


Description:
Wet Lap Machine, Twin Wire, 100", 200 Bdstpd, 3.5-4.0 % Bd Inlet Consistency, 42-47% Bd Outlet Consistency, Includes Drive, Cutting Section, Stacker, Order #k11026, Rebuilt By Andritz In 2000 Upgrade Includes: Vacuum System On Cutter Layboy, Floating Wedge With Side Deckle Assembly, Wire Tensioning Device, Sheet Transfer Device And Edge Trim, High Pressure Wire Cleaning Shower. Max Bale Dimension, 52" Wide, 50" Height, 46" Deep
THIS IS A PREMIER WET LAP MACHINE CONSTRUCTED OF SS INCLUDING ALL THE FRAMING AND SUPPORT EQUIPMENT.
THIS MACHINE IS DISASSEMBLED AND READY TO LOAD AND SHIP TO BUYER
APPROXIMATELY 7 TO 10 FLAT BED SEMI LOADS (WILL NEED SPECIAL PERMITS FOR FREIGHT DUE TO WIDTH OF FRAMING)
THIS MACHINE IS STORED IN OUR WAREHOUSE IN THE USA. PACKAGED AND CAN BE LOADED FOR NATIONAL OR INTERNATIONAL SHIPMENTS
CALL: 1-888-733-5655 OR E-MAIL US AT SALES@PAPEREQUIPMENT.COM
Industry News, Manufacturers News, Financial News, Cutting Edege Industry Information,
Used Equipment and New Surplus Supplier, Paper Equipment, Goulds Pumps, Pump Parts,
Used Pumps, Paper Mill Equipment, Pulp Mill Equipment, Converting Equipment