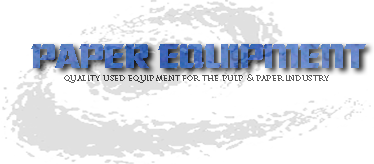 Used equipment for the pulp & paper industry Request More Information
ALLIS CHALMERS PUMPS
ITEM: AC 9100-141617

SIZE: 14X16X17 PUMP 9100 / 3409 GOULDS / ITT / AC 9100 SERIES

USED SURPLUS MORE PHOTOS

ALLIS CHALMERS 9100 SERIES SPLIT CASE 14X16X17 IRON PUMPS - 3 AVAILABLE USED GOOD

16X14X17

LOCATION: INV. MN

GOULDS PUMP MODEL AC / ITT GOULDS 3409 9100 AC SPLIT CASE

WCB STEEL CONSTRUCTION

IRON WETTED PARTS

SIZE: 14X16X17

SPLIT CASE IRON PUMP USED GOOD

CALL PAPER EQUIPMENT 888-733-5655

PUT IN THE FORM:

I

TEM:

9100-141617
E-MAIL REQUEST / QUOTE: ALLIS CHALMERS PUMP, PWO, 4X8X17 SKU: NI-PWO4817-316

| | | | | | | | | | | | |
| --- | --- | --- | --- | --- | --- | --- | --- | --- | --- | --- | --- |
| STOCK NUMBER | NI-PWO4817-316 | ITEM: USED PUMP | QTY: 1.00 | TYPE: CENTRIFIGUL | MANF: ALLIS CHALMERS | MODEL: PWO | SIZE:4X8X17 | PART # CASING: P-1285 | MATERIAL: 316 SS | | WEIGHT: N/A |

OEM PART GOULDS
Location:
INVENTORY / MN USA - ITEM CAN SHIP WITH ORDER - 24 HOURS SPECIAL REQUEST ONLY
SHIPPING: BUYER PAYS
ITEM SHIPS FROM: STOCK INVENTORY
Condition:
USED SURPLUS ITEM / SOLD "AS IS" NO WARRANTY
PRICE: Request Quote Form

PUT THE ITEM NUMBER IN YOUR REQUEST PLEASE SKU: NI-PWO4817-316

DELIVERY: SHIPS FROM STOCK INVENTORY WITHIN 48 HOURS

Brand:

ALLIS CHALMERS
Condition:

USED SURPLUS PUMP

/ OEM / ORIGINAL

Model:

PWO 4X8X17 - PART NUMBER: N/A

Weight:
SIZE:
PWO 4X8X17 COMPLETE , READY TO SHIP
SKU:
316 SS
Category:

PUMP PART / ALLIS CHALMERS PART, PWO PUMPT, 4X8X17 ROTATING ASSEMBLY. MATERIAL: 316 SS / USED SURPLUS PUMP FROM INVENTORY

Additional Notes:
STAINLESS STEEL PART / USED SURPLUS / INVENTORY / PAPER EQUIPMENT - AVAILABLE FOR IMMEDIATE SHIPMENT
E-MAIL REQUEST / QUOTE : ALLIS CHALMERS PUMP, 6X8X13, SKU: CSO6813-316

| | | | | | | | | | | | |
| --- | --- | --- | --- | --- | --- | --- | --- | --- | --- | --- | --- |
| STOCK NUMBER | PWO6813-316 | ITEM: USED PUMP | QTY: 1.00 | TYPE: CENTRIFIGUL | MANF: ALLIS CHALMERS | MODEL: CSO | SIZE: 6X8X13 | PART # CASING | MATERIAL: 316 SS | | WEIGHT: N/A |

OEM PART FROM INVENTORY
Location:
INVENTORY / MN USA - ITEM CAN SHIP WITH ORDER - 24 HOURS SPECIAL REQUEST ONLY
SHIPPING: BUYER PAYS
ITEM SHIPS FROM: STOCK INVENTORY
Condition:
USED SURPLUS ITEM / SOLD "AS IS" NO WARRANTY
PRICE: Request Quote Form

PUT THE ITEM NUMBER IN YOUR REQUEST PLEASE SKU: PWO6813-316

DELIVERY: SHIPS FROM STOCK INVENTORY WITHIN 48 HOURS

Brand:

ALLIS CHALMERS
Condition:

USED SURPLUS PUMP

/ OEM / ORIGINAL

Model:

CSO 6X8X13 - PART NUMBER: N/A

Weight:
SIZE:
CSO 6X8X13 COMPLETE , READY TO SHIP
SKU:
316 SS
Category:

PUMP PART / ALLIS CHALMERS PART, CSO CASING, MATERIAL: 316 SS / USED SURPLUS PUMP FROM INVENTORY

Additional Notes:
STAINLESS STEEL PART / REBUILT SURPLUS / INVENTORY / PAPER EQUIPMENT - AVAILABLE FOR IMMEDIATE SHIPMENT
E-MAIL REQUEST / QUOTE: ALLIS CHALMERS 8000 SERIES 4X6X10 SPLIT CASE SKU: NI-AC8000

| | | | | | | | | | | | |
| --- | --- | --- | --- | --- | --- | --- | --- | --- | --- | --- | --- |
| STOCK NUMBER | NI-AC8000-316 | ITEM: SPILT CASE PUMP | QTY: 1.00 | TYPE: SPLIT CASE | MANF: ALLIS CHALMERS | MODEL: 8000 | SIZE:4X6X10 | PART # N/A | MATERIAL: IRON | | WEIGHT: N/A |

OEM PART PUMP INVENTORY
Location:
INVENTORY / MN USA - ITEM CAN SHIP WITH ORDER - 24 HOURS SPECIAL REQUEST ONLY
SHIPPING: BUYER PAYS
ITEM SHIPS FROM: STOCK INVENTORY
Condition:
USED SURPLUS ITEM / SOLD "AS IS" NO WARRANTY
PRICE: Request Quote Form

PUT THE ITEM NUMBER IN YOUR REQUEST PLEASE SKU: NI-AC8000

DELIVERY: SHIPS FROM STOCK INVENTORY WITHIN 48 HOURS

Brand:

ALLIS CHALMERS
Condition:

NEW

SURPLUS PUMP

/ OEM / ORIGINAL

Model:

8000 4X6X10- PART NUMBER: N/A

Weight:
SIZE:
8000 SERIES SPLIT CASE COMPLETE , READY TO SHIP
SKU:
IRON PUMP
Category:

PUMP PART / ALLIS CHALMERS 8000 PUMP, 4X6X10 MATERIAL: IRON / NEW SURPLUS PUMP FROM INVENTORY

Additional Notes:
STAINLESS STEEL PART / NEW SURPLUS / INVENTORY / PAPER EQUIPMENT - AVAILABLE FOR IMMEDIATE SHIPMENT
MAIL REQUEST / QUOTE: ALLIS CHALMERS 8100 SERIES 8X6X12 SPLIT CASE SKU: NI-AC8100

| | | | | | | | | | | | |
| --- | --- | --- | --- | --- | --- | --- | --- | --- | --- | --- | --- |
| STOCK NUMBER | NI-AC8100 | ITEM: SPILT CASE PUMP | QTY: 1.00 | TYPE: SPLIT CASE | MANF: ALLIS CHALMERS | MODEL: 8100 | SIZE:8X6X12 | PART # 9" IMPELLER | MATERIAL: IRON | | WEIGHT: N/A |

OEM PART PUMP INVENTORY
Location:
INVENTORY / MN USA - ITEM CAN SHIP WITH ORDER - 24 HOURS SPECIAL REQUEST ONLY
SHIPPING: BUYER PAYS
ITEM SHIPS FROM: STOCK INVENTORY
Condition:
USED SURPLUS ITEM / SOLD "AS IS" NO WARRANTY

SERIAL NUMBER: 412522-001-01

PRICE: Request Quote Form

PUT THE ITEM NUMBER IN YOUR REQUEST PLEASE SKU: NI-AC8100

DELIVERY: SHIPS FROM STOCK INVENTORY WITHIN 48 HOURS

Brand:

ALLIS CHALMERS
Condition:

NEW

SURPLUS PUMP

/ OEM / ORIGINAL

Model:

8100 8X6X12 - PART NUMBER: N/A

Weight:
SIZE:
8100 SERIES SPLIT CASE COMPLETE , READY TO SHIP
SKU:
IRON PUMP
Category:

PUMP PART / ALLIS CHALMERS 8100 PUMP, 8X6X12 MATERIAL: IRON / NEW SURPLUS PUMP FROM INVENTORY

Additional Notes:
STAINLESS STEEL PART / NEW SURPLUS / INVENTORY / PAPER EQUIPMENT - AVAILABLE FOR IMMEDIATE SHIPMENT
All Major brands names available in a full range of sizes from 1" to 210,000 GPM and up to 10,000 feet (TDH). Most metallurgies avialable, types, and uses as well. Pumps can be completely remanufactured and come with a 1 and 2 year warranty.
Brands: Ahlstrom, Bingham, Ingersoll-Rand, United, Worthington, Goulds, Pacific, Union, Allis Chalmers, Byron-Jackson, Durco, Sulzer, Warren, Warman, Gorman Rupp, Voith, Valmet, Beloit, Black Clawson, After Market, Sunflo, Sunds, Crane, Nash,
Viking, Warran, Gorman Rupp and many other popular manufacturers. Pumps for boiler feed, Pulp, Paper, chemical, pipeline, refinery, process, chemical recovery, transfer, cooling water, irrigation, fire pumps, saltwater injection, disposal, food and others.
Pump Parts available upon request. Most pumps are available for immediate shipment with order. Emergency shipments available. Take the worry out of delivery and let Paper Equipment handle the logistics for you.
PAPER EQUIPMENT BUYS, CONSIGN AND SELL NEW AND USED PUMP PARTS ALL MANUFACTURERS FOR INDUSTRIAL APPLICATIONS
Industry News, Manufacturers News, Financial News, Cutting Edge Industry Information,
Used Equipment and New Surplus Supplier, Paper Equipment, Goulds Pumps, Pump Parts, Used Pumps,
Paper Mill Equipment, Pulp Mill Equipment, Converting Equipment, pump auctions, paper mill auction,
pulp mill auction, equipment auctions, machinery auction, surplus paper equipment, paper mill surplus, paper mill equipment and machinery
Reserved: PaperEquipment.com 2009
BLOOMINGTON
, MN 55405

TOLL FREE: 1-888-733-5655 Ph: 612-963-2074 Fax: 1-888-532-7996