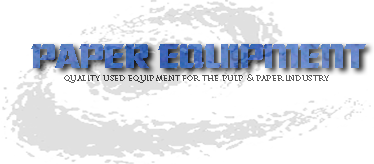 GOULDS ROTATING ELEMENTS
Used equipment for the pulp & paper industry

Goulds Rotating Elements, New Surplus, All 316 SS with bearings and Impeller Rings
OEM
Sizes: Goulds 3405 - 8x10x12, Goulds 3405L - 10x12x14, Goulds 3410L - 8x10x11,
Goulds 3405 - 8x10x17G, Goulds 6x8x11 3410, Goulds 12x14x14DV, Others available upon request !
CALL US TODAY AT 612-963-2074 SO WE CAN ASSIST YOU IN FINDING YOUR GOULDS PARTS!

GOULDS ROTATING ELEMENT, GOULDS PUMP PARTS, GOULDS IMPELLERS, GOULDS SURPLUS PARTS
We can quote this item used "as is", or reconditioned with a 2 year warranty on parts and labor
Uniting buyers and sellers of new & used pulp, paper, forestry and converting equipment
Goulds 3405 rotating elements, Goulds 3410 rotating elements, Goulds 10x12x14, 3405 rotating element, Goulds 8x10x17G rotating element, Goulds rotating element 8x10x12
Industry News, Manufacturers News, Financial News, Cutting Edege Industry Information, Used Equipment and New Surplus Supplier,
Paper Equipment, Goulds Pumps, Pump Parts, Used Pumps, Paper Mill Equipment, Pulp Mill Equipment, Converting Equipment
Reserved: PaperEquipment.com 2009
1917 Penn Ave South Minneapolis, MN 55405
Ph: 612-963-2074 Fax: 1-888-532-7996
Our Mission: To provide quality products and unmatched services to our pulp & paper industry customers world wide.
Paper Equipment, used paper equipment, new paper equipment, buy and sell paper equipment, listing paper equipment