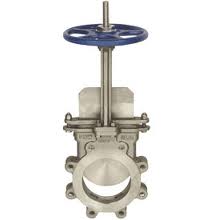 WE BUY AND SELL KNIFE GATE VALVES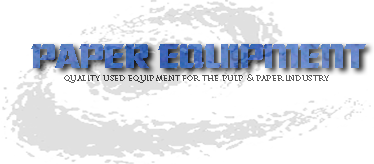 Used equipment for the pulp & paper industry
USED 6 INCH INDUSTRIAL VALVES
Paper Equipment stock's new and used valves in all styles:
NEW USED AND REBUILT VALVES AVAILABLE FOR SALE
DEZURIK, JAMESBURY, VELAN, RED, FNW, CRANE, LADISH, VOITH, FLOWSERVE, METSO, KTM AND MORE
!
6" TRUE LINE KNIFE GATE VALVES FOR SALE ALL 316 SS LUG STYLE
V02

The TRUELINE knife gate is a uni-directional lug type valve designed according to MSS-SP-81 and TAPPI-TIS 405 for industrial service applications.
The design of the body and seat assures non-clogging shutoff on suspended solids in industries such as:

Pulp and Paper
Power plants
Mining
Chemical plants
Wastewater
Food and Beverage
etc.

Sizes: 6"


Working pressure:
DN 14 150 psi (10 kg/cm²)


MORE VALVES BELOW

TRUE LINE

KNIFE GATE VALVES - NEW SURPLUS

14

AVAILABLE

SIZE: 6"

SERIES 6 INCH

MATERIAL ALL 316 SS

HARD RESILIENT

OPERATION: HAND WHEEL

CONDITION: GOOD NEW

RISING STEM

LUG STYLE BOLTS

PRESSURE: 150 PSI

THESE VALVES ARE NEW SURPLUS AT REDUCED PRICES OFF NEW.

TRUELINE IS A PREMIER VALVES MANUFACTURER.

WE BUY AND SELL ALL SIZE KNIFE GATE VALVES IN ALL MATERIALS AND CONDITIONS.
Uniting buyers and sellers of new & used pulp, paper, forestry and converting equipment
Industry News, Manufacturers News, Financial News, Cutting Edege Industry Information, Used Equipment and New Surplus Supplier,
Paper Equipment, Goulds Pumps, Pump Parts, Used Pumps, Paper Mill Equipment, Pulp Mill Equipment, Converting Equipment
Reserved: PaperEquipment.com 2009
1917 Penn Ave South Minneapolis, MN 55405
Ph: 612-963-2074 Fax: 1-888-532-7996
Our Mission: To provide quality products and unmatched services to our pulp & paper industry customers world wide.
Paper Equipment, used paper equipment, new paper equipment, buy and sell paper equipment, listing paper equipment