With 1000's of knife gate valves in stock and four different models to choose from, We have the knife gate valves you need.
Our knife gate valves are available from stock inventory with hand wheels, gears, chain wheels, or quick opening levers as well as air cylinders. Our valves are stocked in CF8 (304 SS), CF8M (316 SS), and CG8M (317 SS). Other alloys can be supplied with a factory delivery. We stock knife gates from 2" to 36".
Every knife gate has a solid one piece cast body with integrally cast gate jams and guides. They are full port and designed with blow out proof packing glands and nylock locking nuts.
Our valves are designed and tested to Tappi TIS 405-8 and MSS-SP81 standards. Our full lug pattern flanges conform to ASME B16.5.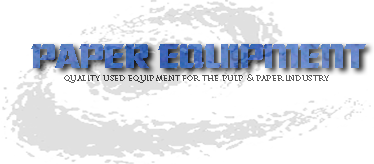 Used equipment for the pulp & paper industry
WE ALSO BUY USED VALVES !
CALL US 612-963-2074
Click Here for a New knife Gate Request Form !
Click here for used knife Gate Valves !

New stainless steel knife gate valves from Paper Equipment
Nominal Pressure: 150 psi
Size: 2" to 48"
Connection Flange: ANSI B16.5
Materials: WCB, CF8M, CF8, CF3M, CF3, MONEL, HASTELOY, NICKLE
SEAT: SS HARD SEAT & TEFLON SEATS AVAILABLE
AIR, GEAR AND HAND WHEEL OPERATED
Uniting buyers and sellers of new & used pulp, paper, forestry and converting equipment
Industry News, Manufacturers News, Financial News, Cutting Edege Industry Information, Used Equipment and New Surplus Supplier,
Paper Equipment, Goulds Pumps, Pump Parts, Used Pumps, Paper Mill Equipment, Pulp Mill Equipment, Converting Equipment
Reserved: PaperEquipment.com 2009
1917 Penn Ave South Minneapolis, MN 55405
Ph: 612-963-2074 Fax: 1-888-532-7996
Our Mission: To provide quality products and unmatched services to our pulp & paper industry customers world wide.
Paper Equipment, used paper equipment, new paper equipment, buy and sell paper equipment, listing paper equipment