Used equipment for the pulp & paper industry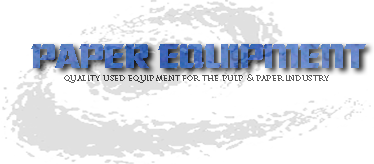 ANDRITZ 3632 SCREW PRESS FOR SALE
ANDRITZ/DUPPS SCREW PRESS ALL SS RECONDITIONED NEVER USED, MODEL: 3632, 40HP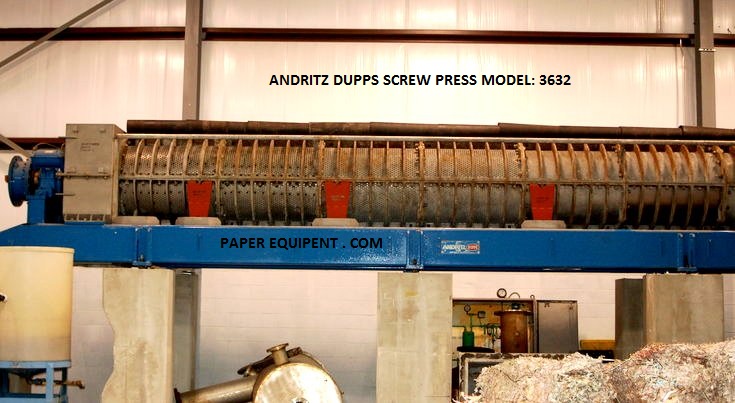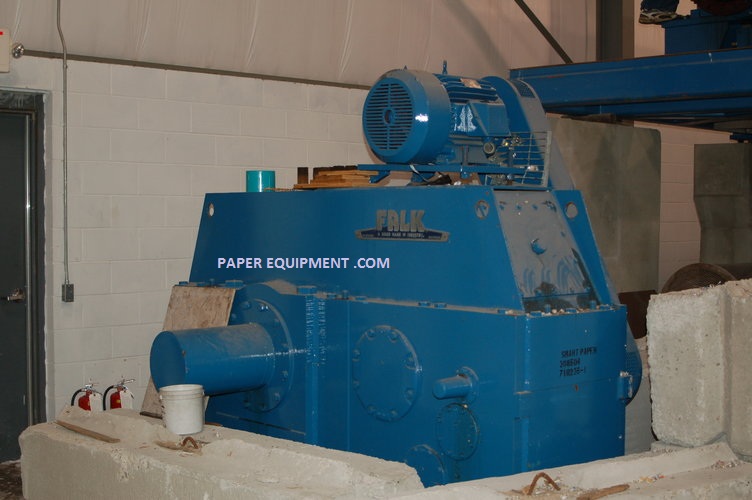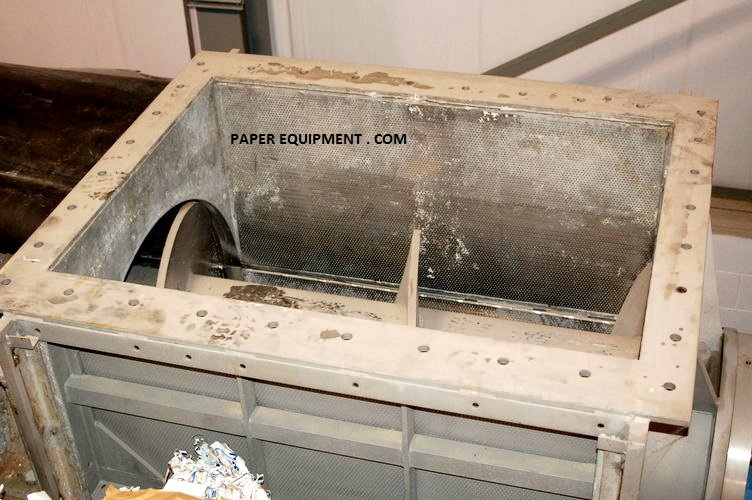 Falk Gearbox: Model 2177YN4-S, Service Rating 40 HP, Ratio: 772.1, SF: 1.175, New 12/89, MO 88-966549, Input RPM: 1750, Output RPM: 2.27, Reducer Output Torque Rating 1,840,000 lbs/in
ANDRITZ DUPPS MODEL 3632 DEWATERING PRESS. STAINLESS STEEL HOPPER AND SCREW, DRIVEN BY A 40HP MOTOR WITH A FALK GEARBOX, RECONDITIONED , INSTALLED BUT NEVER USED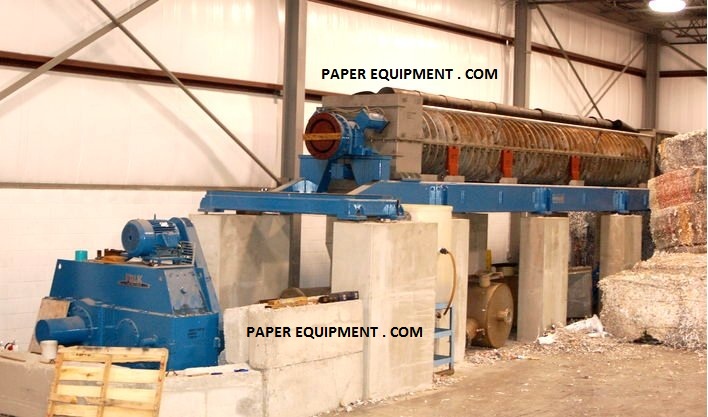 ANDRITZ Pulp Screw Press
The ANDRITZ Pulp Screw Press for recycled fiber pulp dewatering exemplifies our leadership in dewatering technology.
The Pulp Screw Press is typically installed when efficient dewatering is needed to prepare pulp for processes such as deinking and for water loop separation.
The screw press dewaters at the highest level with several unique features. When fed with low-consistency or medium- consistency
fiber suspensions, the press can achieve outlet dryness beyond 30%. The patented control system and a powerful drive ensure the safest operation and constant dryness at discharge.
Benefits:
High throughput and dryness in a single machine
Compact designs
Highly efficient dewatering
Easy to operate and maintain
Production based control stops plugging
Flexible to work with a wide range of pulp types and consistencies
High availability, low maintenance
Excellent resin removal through shear forces of the press
ANDRITZ, DUPPS, ANDRITZ DUPPS, DEWATERING PRESS, SCREW PRESS FOR DEWATERING, USED SCREW PRESS, NEW SCREW PRESS, PULP SCREW PRESS
ANDRITZ 3632 SCREW PRESS, PERRY VIDEX SCREW PRESS, PULP MILL SCREW PRESS, REBUILT SCREW PRESS, RECONDITIONED SCREW PRESS, ANDRITZ DEWARTERING PRESS, DEWATERING PRESS, PRESS FOR DEWATERING, PRESS FOR PULP, DEWATERING PULP PRESS, PRESS FOR DEWATERING PULP
Uniting buyers and sellers of new & used pulp, paper, forestry and converting equipment
Industry News, Manufacturers News, Financial News, Cutting Edge Industry Information, Used Equipment and New Surplus Supplier,
Paper Equipment, Goulds Pumps, Pump Parts, Used Pumps, Paper Mill Equipment, Pulp Mill Equipment, Converting Equipment
Reserved: PaperEquipment.com 1997
Bloomington, MN 55447
Toll Free; 1-888-733-5655 Ph: 612-963-2074 Fax: 1-888-532-7996
Our Mission: To provide quality products and unmatched services to our pulp & paper industry customers world wide.
Paper Equipment, used paper equipment, new paper equipment, buy and sell paper equipment, listing paper equipment